Dear friends,
Early in my first interim pastorate, I heard peevish comments about the length of sermons. These weren't directed at me; I'd barely arrived. But the subject became somewhat of a joke as someone always seemed to be timing the length of the sermon. One Sunday, when my year there was nearly finished, the youth minister preached and broke the taboo by preaching for about 40 minutes!
An analysis of 50,000 sermons from 6500 congregations showed the following median lengths of sermons among these types of churches:
· Catholic – 14 minutes
· Mainline (white) Protestant – 25 minutes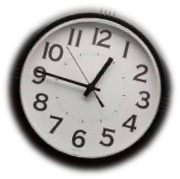 · Evangelical Protestant – 39 minutes
· Historically black Protestant – 54 minutes
When I began my second interim pastorate, the wife of a Search Team member enthusiastically endorse my preaching. Why? Because my sermons were short! I can't say they continued to be as short as those she endorsed, but her remarks revealed something worth considering.
Some people want to feast on the Word, to savor it, to dwell on it and in it. As long as what they're hearing is good news, why not hear a lot of it? Also, some preachers say it takes a good while to fill in the blanks of everything people have forgotten from the previous Sunday. Other people see the sermon as a "lesson," a time for applicable teaching of the scriptures. It takes a while—say, 39 minutes?—to show what the text says, to analyze what it meant way back when, and to instruct listeners in how to respond to the spoken word.
Still others ask the preacher to get to the point before their attention meanders out of the room. Melissa Guthrie Loy has worked to present the Word in ways that people with various kinds of disability can relate to through multiple senses, which sometimes involves them in an activity. With all of these preferences and patterns and possibilities, I approach the pulpit each Sunday with you, dear reader, in mind, and pray that somehow the words of my mouth might stir the meditations of your heart in ways both acceptable to the God of love and useful in your journey of discipleship.
+ Phil Miller