by Larry Hulighan–
First Christian Church is a pretty amazing place. When Sue and I decided to make this our church home it was because we felt so comfortable here and could see that it would make a difference in our lives, externally to our community, and to the world around us.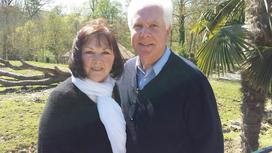 As a congregation we are in the midst of determining who are our givers, how much they will bless us with and how we handle these gifts, versus our internal needs and our outreach.
October 30th is Commitment Sunday. I pray that between now and then God will guide you and your family to become "committed contributors" to our 2017 efforts. All amounts pledged and given are graciously accepted and never judged.
Thank you for your consideration. I know that with God's guidance, through prayer, you can help us with our mission to love, serve, and hope.